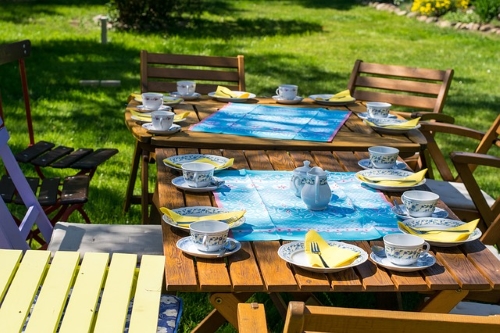 Post party clean up is one major downside of entertaining at home. While you get to enjoy the comfort of your own space and share it with your guests, you're also responsible for putting it back together once everybody leaves.
Luckily, there are some simple ways you can make party cleaning tasks easier for yourself and wow your guests at the same time.
Clean before your guests arrive
It's always helpful to begin with a clean slate. The more you clean before your party starts, the fewer after party cleaning tasks you'll have. Tackle the big projects like sweeping, vacuuming and dusting. Take time to scrub the sinks and toilets if your guests will be using your bathrooms.
Utilize outdoor entertaining areas
Outdoor parties are often easier when it comes to the inevitable post party cleaning. Minor messes and stains aren't an issue outdoors - decks and patios can always be hosed down, and any liquids spilled in the grass will get absorbed automatically. Use your outdoor spaces as much as possible for entertaining.
Provide easy options for trash, recycling & compost
Both indoor and outdoor parties face the potential issue of trash pileup. Used paper plates, utensils, empty cans and bottles - all of it makes for an overwhelming mess if not properly managed during the party. To help, make trash, recycling and compost receptacles available in more than one location during the party to encourage your guests to help out.
Avoid stuffing your menu with messy foods
Unfortunately, some of the tastiest party snacks make the biggest messes. Chicken wings, nachos and other beloved finger foods are prime examples of foods you might want to avoid serving at your party. Avoiding a few sticky stains will help you once the food and guests are long gone.
Cleaning up after a party can involve a great deal more than dirty dishes. With these tips, you'll be able to enjoy hosting your next party and also enjoy a less strenuous cleaning process afterward.